Cruise Transfers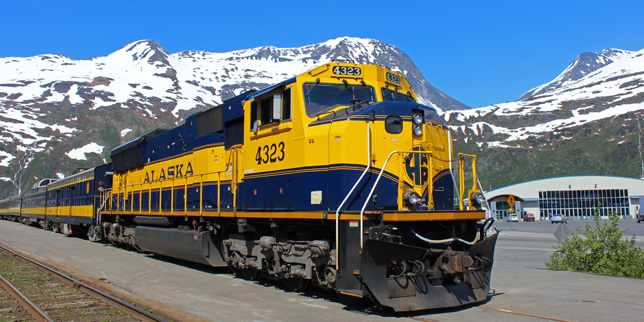 Alaska Cruise Transfers to Whittier and Seward
Each year, hundreds of thousands of Alaska summer visitors travel through Anchorage on their way to or from cruise ships in nearby Whittier and Seward.  The port of Whittier is used by Princess Cruises and Holland America Cruise Line, while passengers on Celebrity Cruises, Royal Caribbean Cruise Line (RCCL), Norwegian Cruise Line (NCL), Regent Seven Seas Cruises and others utilize the port of Seward. There is no scheduled commercial airline service to either Whittier or Seward, so nearly all of these passengers travel between these ports and the regional air hub in Anchorage by train or motorcoach. Fortunately, there are a variety of Alaska cruise transfer options, from those offered by the cruise line and the railroad, to private motorcoaches, buses and shuttles.
Here is an important tip. Avoid flying into Alaska on the day your cruise departs. Of course we recommend spending four or five days or more before (or after) your cruise to explore the land side of Alaska. Even if your schedule or budget does not allow for an extended land trip, at least try to arrive one day early. This will allow time for unexpected airline flight or luggage delays, and allow you to start your cruise fresh and rested. If you need any assistance booking pre or post cruise hotels, tours and even complete Alaska land tour packages just let us know.
Seward Cruise Transfers by Train
Passengers cruising southbound from Seward to Vancouver can take the Alaska Railroad from Anchorage at 6:45am and arrive in Seward at 11:05am. This is a great option if you want to explore Seward a bit, visit the Alaska SeaLife Center or even take a Kenai Fjords cruise. If you are cruising northbound and disembarking in Seward the scheduled Alaska Railroad train departs at 6:00pm and arrives in Anchorage at 10:15pm. Again, this is a good option if you are looking to spend the day in Seward. Many cruise lines offer private train options in both directions as well. Whether you are cruising northbound or southbound, if you have the time, consider spending at least one night in Seward before or after your cruise. Follow these links for Anchorage to Seward or Seward to Anchorage rail information.
Seward Cruise Transfers by Motorcoach
The Park Connection Motorcoach offers morning and afternoon departures in both directions between Anchorage and Seward. So, regardless of which direction you are traveling, we have a departure aligned with your cruise, as well as an option that would allow for extra time in Seward. Not only is the bus a quicker and less expensive mode of transportation, it will pick up or drop off right at your cruise ship on most departures.
Whittier Cruise Transfers by Train
The Alaska Railroad has a great schedule for passengers sailing southbound on cruises from Whittier, departing Anchorage at 9:45am and pulling up right next to the cruise terminal at just after Noon. The train from Whittier to Anchorage does not leave until 6:45pm so most northbound cruise passengers take an earlier motorcoach option or a private cruise train if offered. You can follow these links for more information on the train from Anchorage to Whittier or Whittier or Anchorage.
Whittier Cruise Transfer by Motorcoach
The Park Connection Motorcoach also offers bus service to and from Whittier on most cruise ship days. Northbound departures leave Whittier at 9:45am and arrive in Anchorage at Noon, while southbound departures leave Anchorage at 3:00pm and arrive in Whittier at 5:00pm. Of course we both pick up and drop you off at the Whittier cruise terminal. Another great thing about this service is that you can ride the motor coach from Whittier to Talkeetna or Denali Park (or vice versa) at a fraction of the cost of the train, and without the additional overnight in Anchorage. Many folks use the bus for this leg, and then book the return on the train, getting the best of both options.