Talkeetna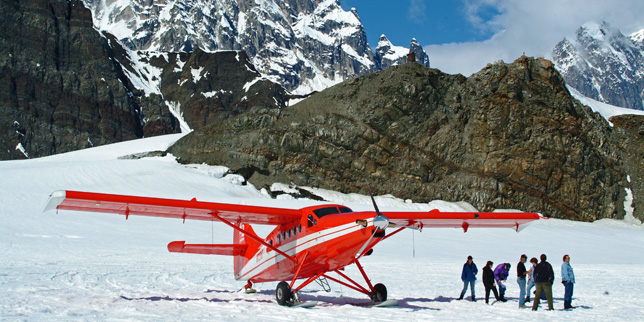 Talkeetna Alaska
The town of Talkeetna is located at the confluence of three rivers in the shadow of Mt. Denali, formerly known as Mt. McKinley, which is the tallest peak in North America. Denali was the mountain's original Alaskan native Athabascan name, which translates quite appropriately to "the Great One".  Talkeetna is closer, as the crow flies, to the summit of Denali than the Denali National Park entrance. In a typical year, over 1,000 climbers attempt to summit the mountain. Most use Talkeetna as a staging area, with local air taxi operators shuttling them to base camp on the Kahiltna Glacier. This proximity to Denali, together with a true small town Alaskan vibe, makes Talkeetna a great spot to fit into your Alaskan vacation. We usually recommend one night in Talkeetna, and two nights to the north at Denali Park.
Getting There
The train is a great way to travel to and from Talkeetna, with the depot conveniently located on the edge of town. The railroad tracks take you right along the downtown core area which is designated a National Historic Site. Traveling north from Anchorage on the Denali Star the trip by rail will take about 3 hours. Southbound, the trip is about 8 1/2 hours from Fairbanks, or 4 ½ hours from Denali Park. Trains travel daily during the summer, with several classes of train service which include Adventure, GoldStar and private dome rail cars like the Wilderness Express. You can get further details by clicking a specific rail trip below, or by checking out our railroad schedule and rates pages.
Talkeetna is also served by the Park Connection bus line, which operates two trips each day between Anchorage and Denali Park. One of the great things about the Park Connection Motorcoach is that you can travel from Talkeetna to Seward or Whittier in just one day, while this would require an overnight in Anchorage if traveling by rail.
Driving to Talkeetna is easy as well… just over 2 hours from Anchorage. The town of Talkeetna is located on a 14-mile "Spur Road" just off state highway 3, the George Parks Highway. There is an airport in Talkeetna, and while commercial scheduled service is generally not available, charter flights can be arranged with local air taxi operators.
Where to Stay
Our top lodging pick in Talkeetna is the Talkeetna Alaskan Lodge. The Park Connection Motorcoach departs right from the lodge, and the lodge also offers complimentary shuttles to town and the rail depot. Many other lodging choices are available in Talkeetna, including smaller historic properties, cabins and B&Bs. You may also want to consider the McKinley Princess Lodge to the north of Talkeetna.
The Talkeetna Alaskan Lodge is located on a small ridge overlooking town, and on clear days offers breathtaking views of the Mt. Denali and the Alaska Range.  It is a comfortable walk from the lodge to downtown Talkeetna, and shuttle service is also available. The property has 212 guest rooms. You can shop for native arts and crafts in the gift shop, relax in the lobby that features a 46 foot river rock fire place, or dine in the award-winning Foraker Restaurant.
The McKinley Princess Lodge is owned by Princess Cruises, so it is no surprise that it is an impressive, well-run facility as well. Also similar are spectacular views of Denali, weather permitting of course. The McKinley Princess is located about 45 minutes north of Talkeetna, on the main highway between Anchorage and Denali Park. It is important that you understand this distinction if you are traveling independently by bus, train or car.  The lodge does offer shuttle service to town and the Talkeetna Railroad depot. Room rates can often by quite reasonable compared to other premium lodge options.  
Getting Around
As mentioned above, if you are staying at the Talkeetna Alaskan Lodge, their shuttle service should pretty much have you covered. If you are staying elsewhere, be sure to ask about your options. For the most part, walking is a good option as you will find Talkeetna is really more of a small village than a city. If you have your own car, it is easy find your way around, with places to park and friendly locals to ask for directions. Limited local taxi service is also available.
What to Do
Talkeetna may be a small town, but there is plenty to see and do. You can get out on the river for some salmon fishing or a thrilling jet boat ride, visit an Alaskan sled dog kennel, or simply enjoy the spectacular views of Mt. Denali and the Alaska Range from many points around town. Stop by the Talkeetna Ranger Station to learn more about mountaineering and what it takes to summit Denali. Better yet, take a flight with local air taxi company to see the Mountain up close and to land on a glacier. Most visitors describe this as a true once in a lifetime experience. North of Talkeetna, near the McKinley Princess, you can explore Denali State Park by kayak or on a guided hike.
Need Help?
Do you need help booking Talkeetna hotels, scenic flights to Denali, other tours or even a complete Alaska vacation package? Read this.
Train trips to Talkeetna
Train trips from Talkeetna