Fairbanks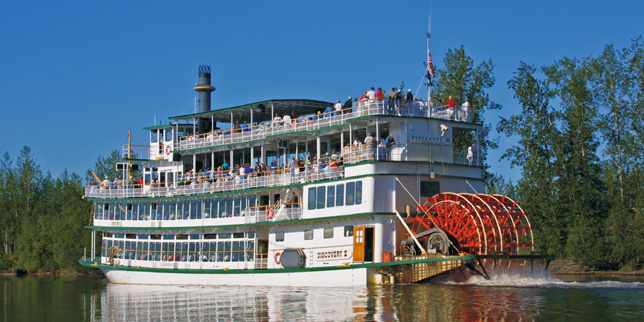 Fairbanks Alaska
Roughly 30,000 residents live within the Fairbanks city limits, but that number swells to nearly 100,000 when you include the surrounding areas, making Fairbanks the second largest city in Alaska. Fairbanks is known as the "Golden Heart City", a moniker earned several times over by its central location in Alaska, a history tied to gold exploration, friendly residents, and summers full of golden sunshine. Big projects have put Fairbanks on the map, from the Gold Rush exploration of the early 1900s, to construction of the Alaska Highway, Alaska Railroad and Trans Alaska Pipeline. Today, oil, tourism, mining, transportation and nearby military installations insure that Fairbanks remains a vibrant and bustling Alaskan community.
Getting There
Fairbanks sits at a hub in the highway system connecting the Parks, Richardson, Steese and Elliott state highways. It also has an International Airport and is the northern terminus of the Alaska Railroad. The trip between Fairbanks and Anchorage is 12 hours by train, and it usually takes 7 or 8 hours to travel the 360 road miles by car. Of course, great destinations like Denali National Park and Talkeetna are in between, so most folks do not travel this all in one day. Follow these links for information on the Fairbanks train schedules and rates. Alaska is a big place… one idea for making the most of your vacation time is to start your trip in Fairbanks, then fly home from Anchorage, or even board a cruise home from Whittier or Seward. Of course you can reverse the direction of this suggestion as well.
Where to Stay
A wonderfully scenic feature of Fairbanks is the Chena River that flows through town on its way to the Tanana River, and later into the 2,200 mile-long Yukon River. It is no wonder many of our favorite Fairbanks hotels are located on the Chena, including the River's Edge Resort Cottages and the Pikes Waterfront Lodge.  
Getting Around
Fairbanks is fairly spread out compared to many of the other small Alaska communities you will be visiting. There are several taxi companies, a public transit system, and many hotels that offer shuttles to the airport and or railroad depot. Be sure to inquire about transportation options before you make your hotel reservation, and let us know if you would like some suggestions or advice. Some visitor attractions such as the salmon bake do offer shuttles, and in some cases a nominal extra fee is charged.  There are car rental companies in Fairbanks, which can be a good option even for just a day or two while you are in town. You can rent a car in Fairbanks and drop it off in Anchorage, but significant surcharges typically apply.

What to Do
Fairbanks is only 188 miles from the Arctic Circle which explains the 22 hours of daylight in late June. Its location also makes it a great spot to start a trip to the Arctic Circle or other northern communities such as Barrow or Prudhoe Bay.  But don't worry, there is plenty to do in town as well. There are city tours available, as well as an excellent museum at the University of Alaska Fairbanks.  Some of the specialty destinations include Creamer's Field Migratory Waterfowl Refuge, an antique auto museum, and there are several opportunities to explore Alaska's native culture including the Morris Thompson Cultural and Visitors Center. You can experience some Fairbanks gold rush history by taking an authentic sternwheeler riverboat cruise, or panning for gold. If you have time, consider a trip just outside of Fairbanks to Chena Hot Springs and Ice Museum.
Need Help?
Beyond rail transportation, we can offer assistance with booking Fairbanks hotels, tours and complete Alaska vacations… check out this page for more information.
Train trips to Fairbanks
Train trips from Fairbanks