Alaska Railroad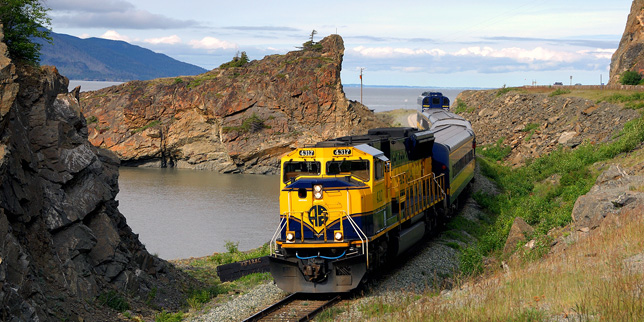 Alaska Railroad Service Options
With more than 470 miles of track, traveling through some of Alaska's most spectacular scenery, the Alaska Railroad is truly the perfect way to explore Alaska. Travel past the tallest peak in North America on the Denali Star Route with service between Anchorage, Talkeetna, Denali National Park and Fairbanks. Or head south from Anchorage on the Coastal Classic to Seward and Kenai Fjords National Park, or to Whittier and the Prince William Sound on board the Glacier Discovery. You can see an Alaska Railroad route map here.  
On the Denali Star and Coastal Classic routes you can choose from two levels of service, either the Adventure Class or GoldStar Domes. Just select a link below for further details.
AlaskaTrain.com is the quickest and easiest way to book all of your Alaska Railroad trips, as well as private dome rail service and deluxe motorcoach trips. For more information on the Alaska Railroad visit our schedules, rates, history, FAQs and photos pages… and be sure to let us know if you have questions or if we can be of assistance in any way.
Adventure Class
With its spacious, comfortable seating, large windows and knowledgeable host guides… you may have a hard time believing that Adventure Class is the railroad's "standard" or "coach" level of service. Adventure Class is available on the Denali Star and Coastal Classic, and is the only class of service available on the Glacier Discovery route to Whittier. Learn More »
Gold Star Dome Service
Simply the best. That is how many of our past guests reviews have described the Alaska Railroad's GoldStar dome rail cars… and we are sure you will agree. These two level luxurious train cars feature a full length upper level dome that offers a 360 degrees view, a unique second level outdoor viewing platform, and even its own dining room downstairs with all-inclusive meals. Learn More »