GoldStar Dome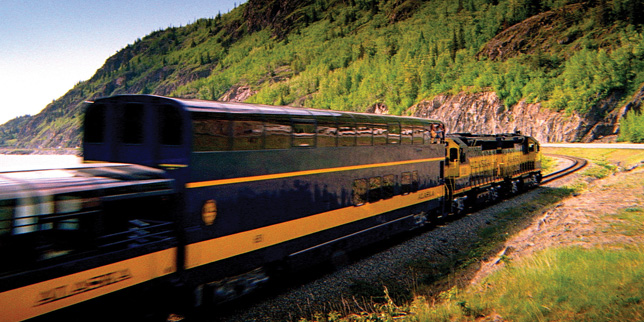 Alaska Railroad GoldStar Dome Service
In 2005 the Alaska Railroad added a total of six luxury full dome railcars to their fleet. They are the newest dome cars on the train, manufactured by the same company that built the private dome cars used in Alaska by the major cruise lines. On the Denali Star and Coastal Classic routes passengers who upgrade from the standard Alaska Railroad Adventure Class service to GoldStar service will ride in these spectacular two-level dome cars.
These 78 seat railcars feature large curved glass windows that run the full length of the car, allowing excellent 360 degree viewing. Each Goldstar Dome passenger enjoys a reserved seat in the upper level dome, as well as priority seating in the lower level dining room with all-inclusive meals. The comfortable seats recline, feature fold down tray tables, and all face forward unless you choose to reverse them… a nice option for parties with kids. A friendly bartender will wait on you in the upper level, offering complimentary soda, tea, coffee and other non-alcoholic drinks. Two adult beverages including beer, wine and cocktails are included per trip, and meals appropriate for the time of day are included as well. See our dining page for more information on Alaska Railroad dining options.
One of the most popular GoldStar features is the unique second level outdoor viewing platform. In fact, the Railroad says it is the only one of its kind in the world. If you travel by train often, you have probably stood in an open air vestibule between cars, taking in some fresh air and scenery, or snapping a photo of the front of the train as it winds around a corner.  Well, imagine this same experience from a spacious covered platform on the second level of the train. It is a great spot to enjoy a cocktail, visit with fellow passengers and take photos. Only GoldStar passengers are allowed to use this platform, so there is almost always plenty of room allowing you to stay as long as you like.
In addition to the amenities listed above, the GoldStar cars have restrooms on the lower level and even feature their own wheelchair lifts. While these cars are very much self-contained, and you may never want to leave, you are free to walk through the rest of the Alaska Railroad Adventure Class cars. This is a good option if you are looking for simpler fare to eat, or just to stretch your legs.
Be sure to check out our advice on how to choose which level of service is right for you.
Follow these links for the Alaska Railroad's Gold Star schedules and rates.