Best Train Options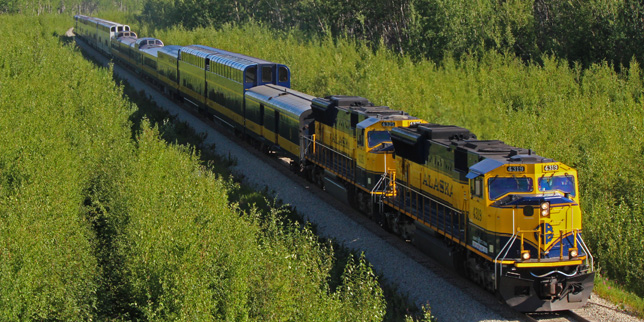 Picking the Right Alaska Railroad Service for You
The best train option for you on the Alaska Railroad really depends on what is most important to you. Looking for the least expensive? Try Adventure Class. How about the best value? Many people say that is the Wilderness Express. If you are looking for an independent traveler vibe then choose the Alaska Railroad, but if you have a loyalty or affinity to one of the cruise lines you can choose the Wilderness Express or McKinley Explorer.  Are you looking for the premium experience regardless of cost? See if the Alaska Railroad GoldStar Dome Service is available. Read though the highlights below to see what fits you best, and if you are still not sure just ask… we are happy to help.
Alaska Railroad Adventure Class
Alaska Railroad Gold Star
Wilderness Express
McKinley Explorer
Similar Questions and Topics
Are the Private Dome rail cars as nice as the GoldStar Dome?
What is the best dome car on the Alaska Railroad?
What is the best Alaska train service?
Which is the best class of service on the Alaska Railroad?
Related Questions and Topics
Where can I find Alaska train reviews?
What is the difference between Adventure Class and GoldStar Dome?
Which Alaska Railroad route is the most scenic?