Denali Star Train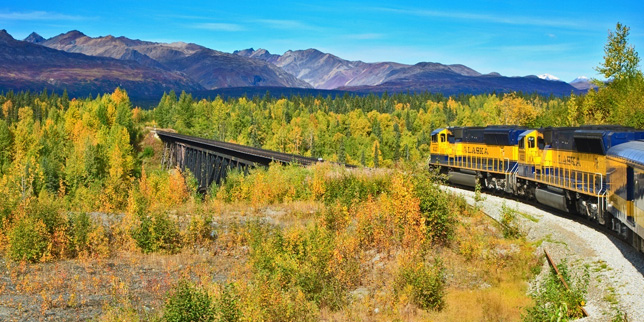 Alaska Railroad Denali Star Route
Like the name implies, Denali National Park is really the star attraction of the Alaska Railroad's Denali Star Route. The entire route spans over 350 miles from Anchorage all the way to Fairbanks, with stops along the way including Talkeetna and Denali National Park. Each morning during the summer two trains depart at 8:15 AM from both Anchorage and Fairbanks, passing each other along the way, and arriving at their respective destinations at around 8:00 PM. Due to the distance involved, nearly all passengers will spend a night or two in Denali Park or Talkeetna, and many passengers will not venture further north than Denali Park. If you do plan to travel the entire distance, consider beginning or ending your Alaska trip in Fairbanks to avoid a lengthy roundtrip. Even if you are planning just to travel Anchorage to Denali roundtrip, consider a railroad and bus package to save time, money and to see some different scenery. Also, consider an overnight in Talkeetna. In our opinion, the perfect Denali Park rail adventure includes at least two nights in the Denali Park area, and one night in Talkeetna.
Traveling north from Anchorage, the Denali Star route takes you from the metropolitan downtown Anchorage area, through the joint military bases of Elmendorf and Richardson, along the Knik Arm and across Knik and Matanuska Rivers, to the fast-growing community of Wasilla in the Matanuska Valley. A brief stop is made in Wasilla, a town that gained a bit of notoriety a few years back as being the hometown of former Alaska governor and once Vice Presidential hopeful Sarah Palin. The next stop northbound is the funky and truly Alaskan community of Talkeetna. Some of the best views of Mt. Denali are available from the train just to the south and north of Talkeetna, and at one point the train passes within 46 miles of the summit. Between Talkeetna and Denali Park you will travel over Hurricane Gulch on a bridge that is 914 feet long and 296 feet above the creek below. Most passengers will disembark at Denali National Park for a few nights, before either heading north to Fairbanks or returning south. Another scenic area on this route is the Nenana River canyon gorge, which the train winds through shortly after departing Denali for Fairbanks.
On the Denali Star route you can chose from several classes or service options… specifically the Alaska Railroad Adventure Class, GoldStar Dome Service or the privately operated Wilderness Express dome cars. A typical Denali Star train is made up of a couple locomotives, a baggage car, two GoldStar Dome cars, several Adventure Class cars, one or two shared dome cars, a bistro or dining car and two Wilderness Express dome cars at the end of the train. The Adventure Class is the most reasonable option cost-wise, and folks that choose this option enjoy spacious, comfortable seating, large picture windows and have access to shared dome cars on a rotating basis. On the other hand, if your budget allows it, the GoldStar or Wilderness Express are a real treat with open air platforms, and spectacular views from the upper level 360 degree dome windows. The Gold Star Dome Service even includes meals and two drinks per trip. All service options on the Denali Star are wheelchair accessible, and ramps are available at all boarding locations. On the Denali Star Adventure Class and GoldStar dome service, tour narration is provided over a PA system by host guides, most of whom are students who have taken a special class. For dining options, the Adventure Class cars feature the Wilderness Café which offers hot and cold meal selection to go. This service is often referred to as "Grab 'N Go", but in practice there are tables in the café where you can eat, or you can take your food with you back to your seat.  The GoldStar Dome cars feature onboard "Sit Down" dining in the lower level of each dome car. This upscale option is available to both Adventure Class and GoldStar guests, although GoldStar guests do enjoy priority seating. The Wilderness Express offers separate host guides in each car who also provide tour commentary, as well as separate dining areas reserved for their guests on the lower level of each car.
While not truly part of the Denali Star train, the McKinley Explorer dome cars operates on a separate train that offers service between Anchorage, Talkeetna and Denali Park. The McKinley Explorer schedule departs Anchorage a bit later than the Denali Star and arrives in Anchorage a bit earlier as well. No service to Fairbanks is offered on the McKinley Explorer.
Follow these links for Denali Star rates, schedules or more information on Route Guide.