Whittier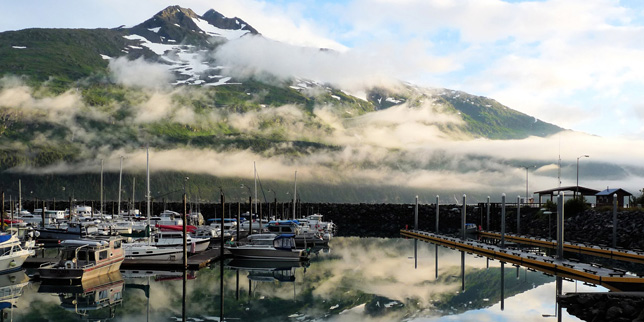 Whittier Alaska
One of the most interesting things about your visit to Whittier may just be how you arrive or depart the city. By land you will travel 2 1/2 miles through a mountain tunnel which is shared by alternating directions of vehicle and rail traffic. The World War II era tunnel was upgraded in 2000 to handle both vehicle and rail traffic, not to mention 150 mph winds and temperatures as low as -40° F. Ventilation is powered by three reversible jet engines.

Whittier enjoys a spectacular location on the western edge of the Prince William Sound, which in turns provides an excellent opportunity to view fjords, tide water glaciers and abundant marine wildlife. The town is also surrounded by snow capped, jagged mountain peaks, and the Chugach National Forest… the second largest national forest in the US.
Getting There
The Alaska Railroad's Glacier Discovery route offers daily summer service from Anchorage to Whittier in the morning, with an evening return trip. The train ride usually takes just under 2 1/2 hours in each direction, and the Whittier train schedule allows plenty of time for a glacier day cruise in Prince William Sound. Click here for Whittier train fares and additional information, or select an individual trip from the list below.
On cruise ship days the Park Connection bus line is an excellent choice for travel in either direction between Anchorage and Whittier. You can read more about Alaska cruise transfers here.
Speaking of cruise ships… both Princess Cruises and Holland America Line use Whittier as a "turn around" port for their seven-night Alaskan cruises from Vancouver, Canada. Often special rail and motorcoach arrangements are available from the cruise lines on these days.
Plan on about 90 minutes to travel between Anchorage and Whittier by car. Be sure to get the latest Whittier tunnel information, and allow some extra time in your schedule in case of delays. If you are looking to rent a car in Whittier, consider taking the bus or train to Anchorage (or vice versa) for significantly greater options, and to avoid one-way drop fees.
Last but not least… the Alaska ferry, also known as the Alaska Marine Highway, offers service to Whittier. See details here.
Where to Stay
There are a couple of hotel and B&B options in Whittier, but the vast majority of visitors are just in Whittier for the day and overnight in Anchorage or other communities such as Girdwood. Check out the Whittier Chamber of Commerce if you decide on an overnight.
Getting Around
Whittier is a small Alaska town, and getting around is typically not an issue. The train and bus transportation arrival and departure points are convenient for both big cruise ship passengers as well as day cruises. Public parking is available for private vehicles. Services are limited, but you can also explore Whittier by foot. Keep in mind, cool and wet weather can often be the norm, so dress and pack accordingly.
What to Do
Whittier is known as the Gateway to Prince William Sound, at least from the western side, and day cruises to see glaciers and marine wildlife are a big draw. For the adventurous, there are day hikes nearby, as well as sea kayak rentals and water taxi drop off service. Sport fishing for halibut and salmon is another popular activity. Charters are available from the Whittier small boat harbor, and you can win prizes for the largest halibut, king salmon or silver salmon by purchasing a Whittier fishing derby ticket.
Need Help?
Looking for assistance with seven-night Alaska cruises, other Whittier activities like Prince William Sound glacier cruises, or even a complete Alaska vacation package? Read this.
Train trips to Whittier
Train trips from Whittier