Seward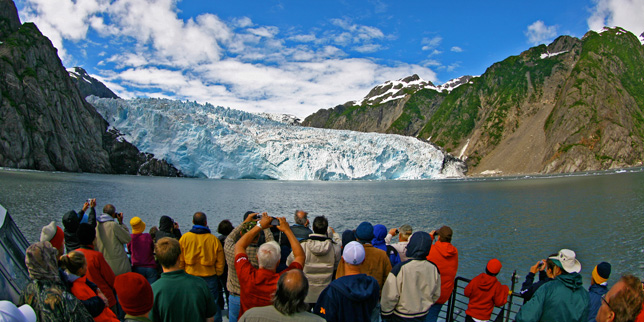 Seward Alaska
Situated on the sparkling blue waters of Resurrection Bay, surrounded by jagged snow capped mountains, and with the 1,000 acre Kenai Fjords National Park as a neighbor… Seward enjoys a well deserved reputation as one of the most scenic cities in Alaska.  This town of just under 3,000 residents is the epitome of visitor friendly with great restaurants and shops, a wide array of lodging choices and easy transportation options. From glacier cruises and fishing charters, to fantastic hikes and the Alaska SeaLife Center, there is no shortage of ways to explore the real Alaska in Seward.
Getting There
Seward is the southern terminus for Alaska Railroad as well as the Seward Highway, which is designated as a National Scenic Byway and an All American Road. In case that is not enough, it is also mile zero for the Iditarod National Historic Trail. The highway and railway route parallel each other for much of the 4.5 hour trip (by rail) between Anchorage and Seward, with the railroad breaking away for a glacier studded section traversing the Kenai Mountains. See our Seward schedule and train fares page for more information or select a specific train trip below.
Driving by car or bus is quite scenic as well, and a little shorter… it usually takes a little under 3 hours with a couple of stops to make the 125 mile trip. The Park Connection Motorcoach offers two trips per day between Anchorage and Seward, including special departures from the pier on cruise ship days, as well as same-day connecting service to Talkeetna and Denali Park. If you are traveling roundtrip, consider taking the train one-way and the bus the other.  One-way rental cars are available in Seward through Hertz Car Rentals.
Royal Caribbean Cruises, Norwegian Cruise Line, Celebrity Cruises and Regent Seven Seas Cruises all use Seward to embark and disembark passengers on their seven night cruises between Seward and Vancouver BC. While many of these passengers do not overnight in Seward, we highly recommend that cruise ship passengers do just that, and we can even help with the arrangements.
Where to Stay
There are easily over one hundred lodging choices in Seward, including B&Bs, motels, cabins, hotels and lodges. Our recommendations vary depending on what part of town you are interested in. Near the Seward Small Boat Harbor, the Harbor 360 Hotel and Gateway Hotel are great options. These properties boast a super convenient location near the rail station, Kenai Fjords cruises, Park Connection bus departures and the big cruise ship dock.
With its spectacular location on the road to Exit Glacier, just across the street from the Resurrection River, the Seward Windsong Lodge is always a great choice. This lodge features 180 guest rooms spread out in 15 buildings throughout the forested property. The award winning Resurrection Roadhouse Restaurant at the lodge is a top choice in Seward, as is the selection of local Alaskan beers on tap at the Seward Windsong's Goliath Bar. The lodge offers courtesy shuttles in to town, the small boat harbor and train station. The Park Connection Motorcoach also picks up and drops off at the property.
Getting Around
Seward is a small town but is more spread out than Talkeetna or Whittier. The city has nice paved pathways and, depending on the weather and your level of fitness, Seward can be a great place to explore on foot. The downtown area where the Alaska SeaLife Center is located is a little more than a mile from the Small Boat Harbor, where most day cruises depart. In the summer, the Chamber of Commerce runs a shuttle, and there are taxi companies and bike rentals as well. Be sure to ask your hotel about transportation options before you book.
What to Do
You have probably heard that a glacier and wildlife day cruise to Kenai Fjords National Park is a "must do" part of your Alaska vacation… and we could not agree more. In addition, be sure to stop by the SeaLife Center, and if you have time get out to Exit Glacier. You can drive yourself if you have a car, but consider taking a guided tour which includes transportation. It is one of the most accessible glaciers in Alaska, being just a short 15 minute walk to the face of the glacier. Exit Glacier is part of the 700 square mile Harding Ice Field, which is located in Kenai Fjords National Park, and was formed over 20,000 years ago.
Halibut and Salmon fishing in Seward are generally fantastic. The Seward Silver Salmon Derby is held every August, and is one of the most popular fishing derbies in the state. Seward is also home to a festive annual Fourth of July celebration, which includes the famous Mt. Marathon running race.
Need Help?
If you need help finding a nice Seward hotel, a Kenai Fjords cruise or other things to do in Seward, click here.
Train trips to Seward
Train trips from Seward