Coastal Classic Train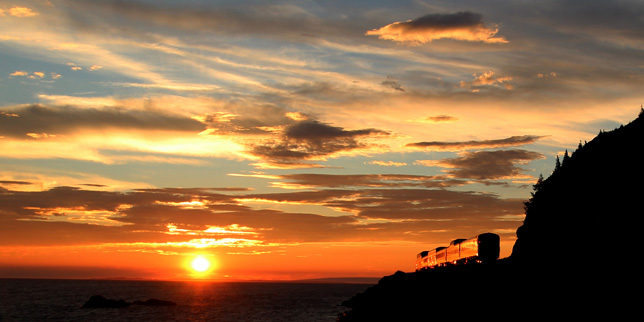 Alaska Railroad Coastal Classic Route
During the summer months, the Alaska Railroad's Coastal Classic train departs the Anchorage depot early each morning to make its 4 hour plus trip to Seward, traveling about 114 miles. The train remains idle in Seward for the day before returning to Anchorage each evening. This schedule allows for a day trip from Anchorage, with time to enjoy a day cruise to Kenai Fjords National Park. If you have the time, a better bet is to spend a night or two in Seward to really experience all this popular seaside town has to offer. Many passengers ride the train in just one direction, especially those who are arriving or departing Seward by large cruise ships. Another popular choice is to mix rail and motorcoach segments to get the best each service offers. The Coastal Classic also stops in each direction at the Girdwood station which is about 40 miles outside of Anchorage… convenient for folks staying at the nearby Hotel Alyeska Resort.
It is hard to narrow down the highlights on the Coastal Classic train since so much of this rail journey is noteworthy. Of course the route travels though Anchorage, the state's largest city, and you get a nice overview of the downtown area, residential neighborhoods, and commercial areas.  Nearly all of the 50 mile section between Anchorage and the old Portage Station hugs the coast line of the Cook Inlet and Turnagain Arm. Here you will marvel at the ever changing scenery as you watch for beluga whales, bald eagles, Dall sheep and the chance to witness one of the largest bore tides in the world. Your journey on the Coastal Classic train will also take you over the Kenai Mountains, though a 1,063 foot summit pass appropriately named Grandview. This section of your rail trip is studded with glaciers, waterfalls, scenic gorges and rivers, so make sure you bring along an extra battery for your camera. Last, but certainly not least, is the town of Seward, which is nestled on the shores of the Resurrection Bay, and surrounded by Kenai Fjords National Park and the Chugach National Forest. Day cruises, kayaking, fishing, hiking and the Alaska Sealife Center are just a few of the things that make Seward a must visit summer destination.
On board the Coastal Classic you can choose from two classes of service, either the standard Adventure Class orGoldStar dome service. Really this is like choosing between great and really super great. For dining options, the Adventure Class cars feature the Wilderness Café which offers a hot and cold meal selection to go. This service is often referred to as "Grab 'N Go", but in practice there are tables in the café where you can eat, or you can take your food with you back to your seat.  The GoldStar Dome cars feature onboard "Sit Down" dining in the lower level of each dome car. This upscale option is available to GoldStar guests, who enjoy meals and two beverages included in their ticket price. A typical train is made up of locomotives, a baggage car, several Adventure Class coaches, the GoldStar dome car, a shared dome view car, and a dining and lounge car. The train is wheelchair accessible, including the GoldStar dome, and ramps are available at each boarding location. On board narration is provided by host guides, and there in an informative magazine on board with maps, photos and more trip details.
Follow these links for Coastal Classic rates, schedules or more information on Route Guide.