Denali Park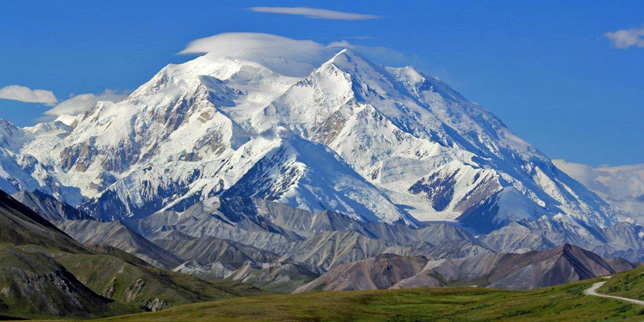 Denali National Park Alaska
At over six million acres, Denali National Park is larger than the state of Massachusetts. The Park is home to Dall sheep, grizzly bear, caribou, moose and Mt. Denali… the tallest mountain in North America. It is no wonder roughly 400,000 visitors make their way to Denali each year.
Getting There
The trip on the railroad north from Anchorage will take you just under eight hours, or you can ride south from Fairbanks in about four. Trains operate daily during the summer months and you can choose from several different classes or levels of rail service. For more information see Denali Park schedules, rates or click on a specific trip below.

The Park Connection Motorcoach offers twice daily service to Denali Park from Anchorage, as well as same day service from Whittier and Seward. Most travelers that book with us take the bus for part of their trip, here's why.

You will find most of the major rental car companies at the Anchorage airport, so driving yourself is always an option.
Where to Stay
Most visitors to Denali stay in hotels or lodges located just outside the Park entrance, either one mile north in the Denali Canyon area or seven miles south near Denali Village. Our top picks are the Denali Princess, Grande Denali and Denali Bluffs Hotel north of the entrance, or the Lodge at Denali Village to the south.

There are also a number of wilderness lodges deep inside Denali Park at the end of the Park road. Our favorites include the Kantishna Roadhouse and the Denali Backcountry Lodge.

You will want to spend at least two nights at Denali Park, and if you have the time, consider adding a night in Talkeetna to take in the best views of Mt. Denali outside the Park.
Getting Around
The majority of visitors to the Park do not have cars, so most major hotels offer shuttle service to the Denali railroad depot and visitor center. Be sure to inquire when you make your hotel reservation. If you are taking a local tour such as rafting or flightseeing, most operators will pick you up at your hotel. Traditional taxi service at Denali Park is very limited and advance arrangements are recommended. If you are staying in the Canyon area north of the Park entrance, many shops and restaurants are within walking distance.
Seeing the Park
The road into Denali Park is 92 miles long and most private vehicles are not allowed past mile 15. You also cannot see Mt. Denali from the Denali Park entrance area, including the hotels. For these reasons, nearly all visitors travel into the park by shuttle bus or tour bus. Shuttle and tour bus options from the Park concessionaire are offered in various lengths, from 4.5 hours to 13 hours. We highly recommend advance reservations, although you can purchase bus tickets once in Denali if space is available. The shuttle bus option is less formal and less expensive than the tour bus. There are no meals, it is not typically narrated, and you can get off and re-board a different shuttle bus inside the Park. If you are looking for the traditional narrated bus tour experience, then choose a tour bus rather than the shuttle. Bus tours from private companies are also available. In fact, one of our favorite trips into Denali is provided by a private company, the full day Kantishna Wilderness Trails tour, which includes a hearty lunch at a lodge located near the end of the Denali Park road.
What to Do
There is plenty to do in Denali in addition to bus trips into the park. River rafting on the Nenana River is very popular, as are dinner theaters. You can also go flightseeing by helicopter or fixed wing aircraft, go for a hike, take an ATV tour, or even visit the sled dog kennel of a champion Iditarod musher.
Need Help?
Looking for assistance with Denali Park lodging, activities or complete vacations packages? Read this.
Train trips to Denali Park
Train trips from Denali Park