Talkeetna to Denali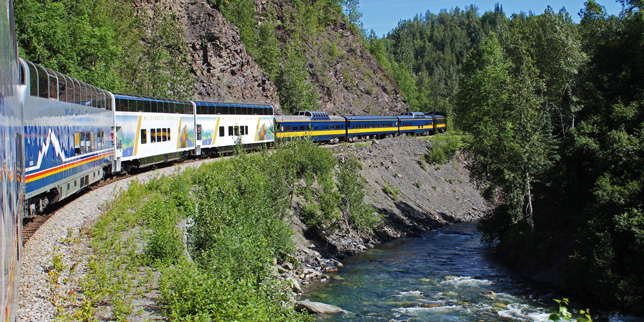 Alaska Railroad Talkeetna to Denali National Park
Mile 13.5 Talkeetna Spur Road, 99676
Mile 1.25 Denali Park Road, 99755
11:20 AM
3:40 PM
4 hours, 20 minutes
121 miles
Denali Star
Adventure Class, GoldStar, Wilderness Express
Grab 'N Go, Sit Down Dining
May 10 to September 16, 2023
$109 Adventure, $248 GoldStar, $155 WEX
$55 Adventure, $131 Goldstar, $78 WEX
McKinley Explorer
Schedule, Rates, Faqs, BOOK NOW
The train depot in Talkeetna is close to the small downtown area and airport at mile 13.5 on the Talkeetna Spur Road, which connects this community of about 900 residents with the Parks Highway. Many larger hotels like the Talkeetna Alaskan Lodge, and even the McKinley Princess Lodge located 45 minutes to the north, offer complimentary shuttle service to the depot, so check your hotel for transfer options. Try to be at the depot an hour in advance to check in.
As you depart the Talkeetna depot, you will pass along "downtown" Talkeetna, and shortly thereafter you will cross over the Talkeetna River near the confluence of the Talkeetna, Susitna and Chulitna Rivers. Much of the next 40 miles will be spent hugging the eastern edge of the Susitna River, and a number of good Mt. Denali photo opportunities are available.  About 25 miles north of Talkeetna you will pass Curry. There is not much there now, but from 1920 to 1957, this was the location of the largest and most luxurious hotel in Alaska. It is midway between Seward and Fairbanks, and guests originally overnighted here on their 3 day journey north. You are also now following the eastern boundary of Denali State Park, a 325,000 acre Alaska state park that shares its western boundary with its big brother… the six million plus acre Denali National Park.
As your journey continues, you will cross the Susitna River and leave it behind. The bridge over the river was built in 1921 and spans 504 feet. Just about 20 miles to the north, you will cross Hurricane Gulch on a bridge built in the same year that spans 914 feet, making it the longest bridge on the railroad. Just prior to reaching Hurricane Gulch are some of your last chances for a great shot of Mt. Denali, now less than 50 miles away. You are now over half way from Talkeetna to Denali Park, and in another 20 miles or so you will travel through Broad Pass at 2300 feet… the lowest pass of the Alaska Range. You may be wondering since you have only been seeing one set of train tracks on most of your trip… how does the southbound train from Fairbanks pass by? Well, if everything is running on schedule, one of the trains will typically pull onto a siding near Broad Pass, and the other will roll on by. It is customary for passengers to give the other train a "moose antler" wave as you go by… but you will learn more about that onboard. As you pass Summit Lake, you will be at 2,363 feet… the highest point on the Alaska Railroad.
As you depart Broad Pass, you will travel past the small community of Cantwell. You are now less than 30 miles from the Denali Park railroad station. Much of this time, you will be traveling along the border of Denali National Park and the Nenana River. Whitewater rafting and scenic floats on the Nenana River are among the most popular activities at Denali Park. As you get close to the Park, you will pass the McKinley Village area and cross into Denali National Park. The McKinley Village area is about seven road miles from the Park entrance, and is home to the Lodge at Denali Village, as well as several other lodges and hotels.  As you pull into the Denali Park Railroad Station, you will see lines of buses waiting to take guests to their respective hotels. Nearly all major hotels in Denali provide transfers, some for a fee. In fact, you can tag your bags with the Alaska Railroad in Anchorage, Talkeetna or Fairbanks to be delivered directly to most major Denali hotels.
Hopefully you have at least two nights in Denali Park… there is lots to do. You can't see much of the Park from the entrance area, so you really must take a bus tour on the 90 mile restricted access park road. Beyond that, many of the most popular activities include rafting, flightseeing, hiking, dog kennel tours, ATV tours and even a dinner theater. You can read more about Denali National Park here, and remember if you need help booking Denali National Park hotels, tours or activities… we can help with those too.
Next Stop Northbound: Fairbanks
If you are staying on the railroad to Fairbanks, you can continue reading here.