Wilderness Express Train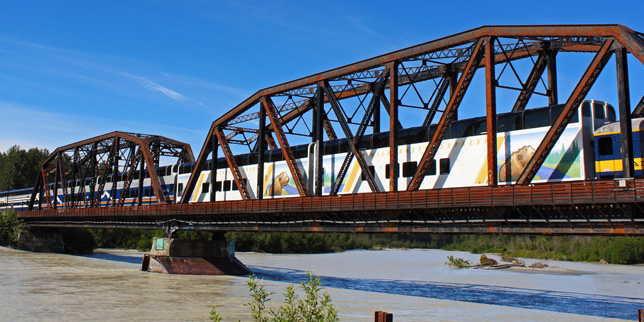 Wilderness Express Dome Train
The Wilderness Express private dome cars were custom built for use on the Alaska Railroad and placed in service in 2001 and 2002. They are considered "private" in that they are owned and operated by a private company, although they are pulled by Alaska Railroad locomotives.  Originally these four luxury rails cars were available only for the exclusive use of those passengers traveling on a Royal Caribbean Cruise Line or Celebrity Cruises Alaska cruise tour. In 2013, the Wilderness Express cars were sold to a leading Alaska based tour operator, and while the railcars are still heavily used by those cruise lines, they are now also available for independent Alaska travelers as well. Availability can be limited on some days, even well in advance, so book early.
The Wilderness Express operates on the Alaska Railroad's Denali Star route that offers daily summer service to Anchorage, Talkeetna, Denali National Park and Fairbanks. They are usually the last two cars on the train in each direction, following the same schedule as the Denali Star route. Wilderness Express fares typically fall in between the Alaska Railroad's Adventure Class and GoldStar Service making them an exceptional value.
The same company that built the GoldStar domes and McKinley Explorer cars also manufactured the Wilderness Express, so you will notice many similarities, including the full-length curved glass dome that provides a spectacular 360 degree view. All guests have forward-facing seats in the upper level dome, with 88 total seats split in pairs along a center aisle. These leather seats recline, have fold down trays, and truly may just be the most comfortable seating option for any train service in Alaska. Also upstairs, a friendly host guide is on each car to point out highlights along the way, and a bartender offers full bar service for purchase. Each car features a wheelchair lift, and limited gift shop items are offered for sale.
On the lower level, there is a kitchen and a 36 seat dining room where breakfast, lunch and dinner are served based on the time of day of your trip. Breakfast runs from $10 for more simple items, to $15 for specialties like their Alaska Seafood Special scramble, while most lunch items are $11 to $17, including a tasty Aleutian Seafood Pasta Salad. Of course dinner is a treat with entrées such as Alaskan Halibut and Prime Rib, ranging from $17 to $30, as well as a full line of decadent desserts and after dinner libations. You can download the Wilderness Express menus from the most recent season, and get more details on our Alaska train dining page. Also downstairs, you will find the restrooms and a small outdoor viewing platform. Since the Wilderness Express is typically at the end of the train, the outdoor platform can be a real treat for catching some air, and snapping photos of the great Alaskan scenery, or the train itself as it curves around a bend.
We encourage you to read more about all the different dome car options and to check out this article on how to choose which one is right for you.
Follow these links for Wilderness Express schedules and rates.