Park Connection Motorcoach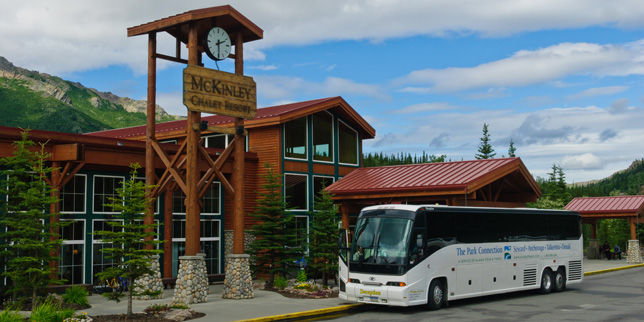 Alaska Park Connection Motorcoach
The Park Connection is an Alaskan bus line operated by Alaska Tour & Travel, offering seasonal summer service to Anchorage, Denali Park, Seward, Talkeetna and Whittier. There are two departures each day to both Seward and Denali Park from Anchorage, so there is sure to be a trip that fits your schedule. The Denali Express route matches up perfectly with buses traveling to or from the Denali Kantishna lodges located inside Denali Park. We also have special cruise transfers that can pick up or drop off dock side in Whittier or Seward.  The Park Connection is the only scheduled daily transportation option for same day service between Denali Park or Talkeetna and Seward or Whittier with our Park to Park service. Be sure to visit the Park Connection Motorcoach schedule and rates page for additional details.
The Park Connection is owned and operated by lifelong Alaskans. The fleet consists only of full-sized, professionally maintained, highway quality motorcoaches. No passenger vans or "airporter" style buses are ever used. Motor coaches feature large picture windows, comfortable leg room, onboard restrooms, luggage racks above, and luggage bays underneath the coach.  Knowledgeable drivers are professionally trained and point out tour highlights, and photo and rest stops are made along the way.
Brand New in 2017, we upgraded our entire fleet, adding new motorcoaches featuring even more leg room, in seat power options for your phone or ipad, and additional safety features including passenger seat belts.
A Perfect Match for your Alaska Railroad Trip
You may be asking yourself why there is an Alaska bus line featured on a web site all about Alaska Trains. You might also be surprised to learn that the vast majority of our roundtrip passengers choose to book one direction on the Park Connection Motorcoach… here are just a few of the reasons why. As you can see, the Park Connection offers service to nearly all of the major "railbelt" destinations including Seward, Whittier, Anchorage, Talkeetna and Denali Park. Travel by the Park Connection is typically faster and cheaper compared to the train, and often provides different scenery along the way. Of course we are big fans of experiencing Alaska by train, but often you can combine the bus and train to get the best of both services.
Another feature that sways folks to book the Park Connection for a portion of their trip is the same day service between Denali Park or Talkeetna and Seward or Whittier. For example, say you are in Seward, having either traveled down from Anchorage by train, or having arrived in Seward by cruise ship. To travel north to Talkeetna or Denali Park by train would require an overnight in Anchorage, while the trip by bus can easily and economically be done in a day. You can then return to Anchorage by train at the end of your trip… in fact, this is one of our most popular itineraries.
Follow these links for Park Connection bus schedules and rates.