McKinley Explorer Train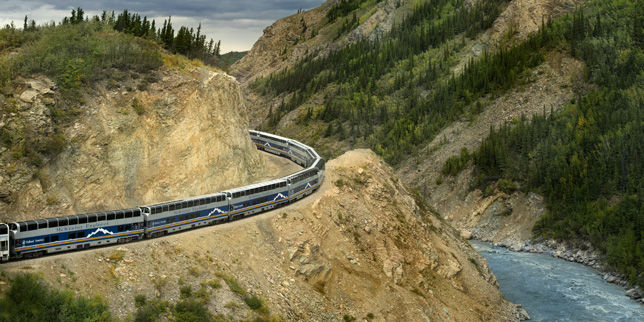 McKinley Explorer Dome Railcars
Holland America Line and Princess Cruises, both owned by parent company Carnival Cruises, operate the largest fleet of dome railcars in Alaska, including the McKinley Explorer. As you might expect, most passengers that travel on these railcars are part of cruise line group tours… but when excess space is available, reservations are offered to independent Alaska travelers as well. There are a total of 10 McKinley Explorer train cars that were first placed in service between 2004 and 2006.
One of the most unique things about the McKinley Explorer is its schedule. Although service is offered to Anchorage, Talkeetna and Denali Park… it is a separate train from the Alaska Railroad's Denali Star, and operates on a different schedule. Depending on your travel plans, you may find the McKinley Explorer's later departure time from Anchorage or earlier arrival time into Anchorage a convenient option. Check here for the McKinley Explorer schedule and rates, and keep in mind that the McKinley Explorer does not offer service north of Denali Park to Fairbanks.
McKinley Explorer rail cars seat 86 to 88 passengers in the upper level dome. Each passenger has a reserved seat and the large curved glass dome windows run the full length of the car, offering superb 360 degree views. Seating is comfortable, with foot rests and fold down tray tables. Each car has its own host guide who provides tour commentary, answers questions and offers gift shop items. Full bar service is available upstairs for purchase. Both levels of the McKinley Explorer are wheelchair accessible.
On the lower level you will find restrooms, an outdoor viewing platform and a restaurant. Similar to the GoldStar dome and Wilderness Express, guests rotate through the dining room since it cannot accommodate all passengers at the same time.  Enjoy breakfast items like the Alaskan King Crab Cake Benedict from $9 to $17, or lunch items including their Alaska Fish Tacos from $12 to $16. You can see sample McKinley Explorer menus here. Note there is no dinner service on the McKinley Explorer due to its relatively early arrival time into both Denali Park and Anchorage.
There is one item to note if you are booking the McKinley Explorer train. As mentioned above this is a separate train which is utilized just by dome rail cars owned by Holland America Line and Princess Cruises. Holland America cruise tour passengers generally travel on the McKinley Explorer, while Princess Cruises passengers usually travel on separate Princess Rail train cars. Independent travelers, including those who book through AlaskaTrain.com, are generally are seated on the McKinley Explorer but may be moved to the Princess Rail cars in some infrequent cases. The McKinley Explorer cars and the Princess Rail cars are very similar with one notable exception… the Princess Rail seating is set up with tables of four, with half of the seats are facing backwards.
Follow these links for McKinley Explorer rates and schedules.