Anchorage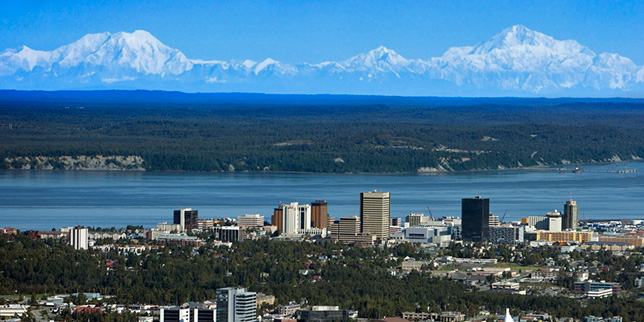 Anchorage Alaska
The Chugach Mountains rise dramatically to the east of Anchorage while most of the rest of the city is surrounded by water. The downtown area juts out into the Cook Inlet… dividing into the Knik Arm to the north, and Turnagain Arm to the south.  In 1897, Captain James Cook sailed past Anchorage on his quest to find the Northwest Passage. He was forced to turn around,  or "turn again", coining a phrase that would lead to the name Turnagain Arm. In 1914, Anchorage was established as a tent city of roughly 2000 residents as a construction camp for the Alaska Railroad.
Today the motto for Anchorage is "Big Wild Life"… a nod not only to its status as the largest city in Alaska, or the adventures that await you, but also the actual "wildlife" as well. Anchorage is home to an estimated population of over 300 bears, 1000 moose, and a variety of other species including fox, Dall sheep, mountain goats, wolves, beaver and coyotes.
Getting There
Anchorage is known as the "air crossroads of the world", and the vast majority of visitors will either arrive and or depart Alaska via the Anchorage International Airport. Nonstop flights to Alaska are available from major air carriers such as Alaska Airlines, Delta, US Airways, Jet Blue and Frontier, from cities including Seattle, Portland, LA, Minneapolis, Chicago, Phoenix and more.
Both the Alaska Railroad and the Park Connection Motorcoach are headquartered in Anchorage, so both offer their widest selection of routes, levels of service and destinations from here. Click on anchorage train rates or train schedules or see the full list of specific railroad trips below.
Many visitors also arrive or depart Anchorage by cruise ship, most via nearby Whittier or Seward. You can get information on Alaska cruise transfers here.
Where to Stay
As one would expect of a city of this size, there is a wide array of lodging choices from small inns and b&bs, to motels, hotels and extended stay properties. Most major hotel options in Anchorage are grouped in one of three areas… downtown, midtown or by the airport. The major properties tend to be national brands, but some independent options such as the Hotel Captain Cook are available.
Near the airport we recommend the Lakefront Anchorage Hotel. Downtown, the Captain Cook is a nice choice on the upper end. In addition, many of our guests stay at the Comfort Inn, which is close to downtown and right next door to the Alaska Railroad depot. We also arrange rooms at mid town properties like the SpringHill Suites which offer free shuttles to the train depoit and airport. Of course we can help with hotel suggestions or reservations, just give us a call.
Getting Around
This will really depend on where you are staying. Many of the hotels we recommend have basic shuttle service to the airport, train depot and Park Connection departure points. As always, be sure to inquire about options before you make your hotel reservations. Taxis and ride share services in Anchorage are fairly plentiful, and there is public bus system, as well as a great network of bike trails. If you are staying downtown, there are plenty of shops and restaurants within walking distance.
Nearly all the major car rental companies are represented at the Anchorage airport. Consider choosing one that offers an off site location to avoid a chunk of the taxes and fees that come along with airport car rentals.
What to Do
You may have a hard time narrowing down your options. Of course Anchorage has a great museum, zoo and the Alaska Native Heritage Center. Another gem is the Coastal Trail which runs along much of the Anchorage coastline, from downtown to Kincaid Park, and it is great for a bike ride or to explore on foot. The restaurant, shopping and music scene is sure to impress. You can head to the Chugach Mountains for a day hike, or book a tour of the city. Anchorage is also home to Lake Hood, the busiest float or seaplane base in the world. From here you set off with an experienced Alaskan bush pilot for glacier sightseeing, a fly-in fishing trip or even a bear viewing adventure.
Need Help?
We are based right in Anchorage and would be happy to help if you need recommendations for Anchorage hotels, attractions, tours or even a complete Alaska vacation package.
Train trips from Anchorage
Train trips to Anchorage