Day Trips by Train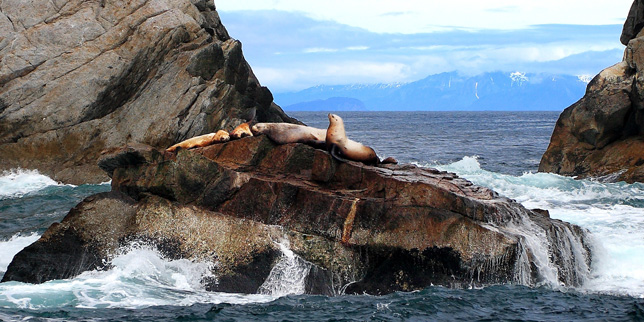 Alaska Railroad Day Tours
The Alaska Railroad offers several day tours from Anchorage. The most popular day trip on the Alaska Railroad is to Seward, which is the gateway community for Kenai Fjords National Park. This train tour departs at 6:45am, arriving into Seward at 11:20am. It is also known as one of the most scenic train rides in Alaska, with opportunities to see wildlife, glaciers and waterfalls. Upon arrival into Seward, there are two Kenai Fjords National Park day cruises that work with the train schedule. Both cruises depart the small boat harbor at 11:30am and return at 5:30pm, in time to make the 6:00pm departure on the train back to Anchorage. Kenai Fjords National Park is known for spectacular beauty, whales, and glaciers. If a day cruise does not sound appealing, you can explore the small boat harbor and downtown areas of Seward on your own, and take in a tour of the Alaska Sea Life Center. The train will arrive back into Anchorage at approximately 10:15pm.
Similar to the Seward day tour is the trip to Whittier Alaska. The town of Whittier is the gateway community to Prince William Sound, where you can access several different day cruises. The Prince William Sound is known for calm waters, glaciers and waterfalls. Departing Anchorage at 9:45am, this train makes its way south along Turnagain Arm and travels through the Anton Anderson Memorial Tunnel, the longest railroad-highway tunnel in North America. Once in Whittier you walk across the street to board any of the three day cruises that will take you out to see the glaciers and waterfalls of Prince William Sound. The train will depart Whittier at 6:45pm, arriving back into Anchorage at 9:00pm.
A trip to Spencer Glacier can also be done as a day trip from Anchorage. This trip departs at 9:45am and arrives back in Anchorage at 9:00pm.  You will have about 3 hours once you reach the Spencer Glacier before the train makes its return to Anchorage, and optional tours such as rafting, kayaking and hiking are available.
If you would like to go to the interior of Alaska, you can take a trip on the rail to Talkeetna. This small community has spectacular views of Mt. Denali and the Alaska Range. Located just 123 miles south of the Denali National Park entrance, it is a great way to experience interior Alaska as a day trip. The train departs Anchorage at 8:20am, and arrives in Talkeetna at 11:05am. The return trip to Anchorage departs Talkeetna at 5:20pm, allowing plenty of time to take in the small town, a flight seeing tour to Mt. Denali, or a jet boat tour. This train will arrive back in to Anchorage around 8:00pm.
Remember, in addition to your train reservations, we can help with booking the day tours mentioned here, as well as other tours, hotels or even complete Alaska vacation packages.
Similar Questions and Topics
Are there day trips on the Alaska Railroad?
What are the best Alaska Railroad day tours?
Can I take a day trip to Seward on the train?

Related Questions and Topics