Adventure Class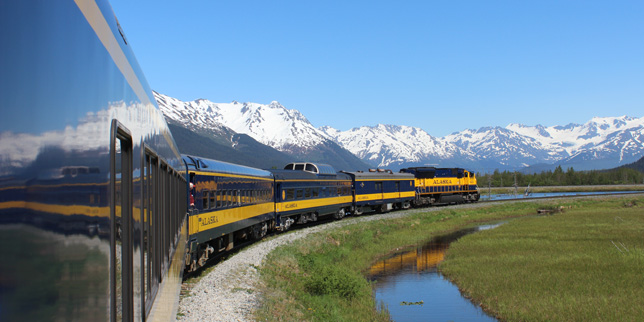 Alaska Railroad Adventure Class
The Alaska Railroad offers two levels or classes of service on its Denali Star and Coastal Classic routes. Adventure Class is considered the standard or coach service while GoldStar service is an upgrade to one of the railroad's newer luxury dome railcars. When you hear a term like "coach" or "standard class" you may be tempted to think of your last airline flight and having to pay to use the restroom, but trust us, that is not the case here.
The first thing you will likely notice about the Adventure Class railcars is their roominess. The single level cars range from 60 to 80 seats and have high ceilings, large windows, as well as a truly surprising amount of leg room. Most seats recline and have foot rests. There are overhead racks and plenty of room for hand carry luggage. There are restrooms in most train cars, and are otherwise typically close by. There is a public address system, and tour highlights are pointed out along the way by local high school students who have taken a special tour guide class sponsored by the Alaska Railroad. Usually there are a couple host guides on board, not one for each car, but they often walk among the cars visiting with passengers.
Another great Adventure Class feature is the shared dome car. These are partial dome cars that offer an even better view of the scenery along the train route. Passengers are asked to rotate seats, limiting their use to 20 minutes at a time, but often these cars are not busy and you can stay longer.
On the Denali Star and Coastal Classic routes the Adventure Class features the Wilderness Café. For breakfast there is a nice selection of menu items between $3 to $8, from fresh fruit to hot cereal and breakfast burritos. All day dining options range from $6 to $11 for salads, wraps, sandwiches and the like. There are also snacks and treats like cookies and ice cream, as well as beverages including full bar service and a separate lounge car. Note the Glacier Discovery route from Anchorage to Whittier does not offer GoldStar service, so the entire train essentially consists of Adventure Class. Dining options are more limited on the Glacier Discovery with only "Grab 'N Go" items available.
The Alaska Railroad Adventure Class is a solid choice, but there is a lot to be said for the upgrade to the GoldStar domes if they are available and within your budget. There are pros and cons to each so be sure to read about the GoldStar option here and also take a look at our advice on choosing between Adventure Class and the GoldStar dome. Remember, if you are traveling between Anchorage, Talkeetna, Denali Park and Fairbanks, there are additional private dome options as well with the Wilderness Express and McKinley Explorer.
Follow these links for the Alaska Railroad's Adventure Class rates and schedules.