Spencer Glacier - Grandview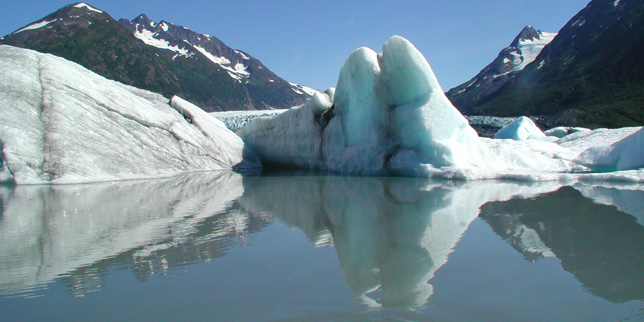 Spencer Glacier – Grandview Day Trip
The Glacier Discovery train leaves Anchorage each morning during the summer and heads south along the Turnagain Arm stopping in Girdwood and Portage before traveling through the tunnel to Whittier. In the evening the same train offers this service in reverse, traveling from Whittier back to Anchorage. Many folks who ride the Glacier Discovery train are traveling to or from Whittier to board large cruise ships or to take a smaller day cruise boat out into Prince William Sound.
What makes the Glacier Discovery Route unique is what the train does during the middle of the day after it arrives in Whittier. The train heads back out to Portage then south again up to the Spencer Glacier Whistle Stop and beyond through the Placer River Valley to Grandview. Here the train reverses direction heading back down to Portage, then Whittier and eventually back to Anchorage in the evening. This schedule allows travelers who are short on time to take a scenic one day trip on the Alaska Railroad from Anchorage to Grandview and back. Many folks on this day trip will disembark at the Spencer Glacier Whistle Stop, and take a tour while the train heads up to Grandview and back. Tours at the Spencer Glacier Whistle Stop include rafting, hiking and a longer kayak / hike combination tour. See this page for more details.
When you return from Spencer Glacier or Grandview you will first stop at Portage. Here you disembark the train and take a motorcoach back to Anchorage. This is the best option since the train has to first head back into Whittier and arrives in Anchorage several hours later than the bus.  One exception to this is for passengers who take the Spencer Glacier Kayak and Hike tour. This longer trip actually catches a later train that takes you all the way back to Anchorage.
Here are a few important notes...
Yes, this schedule can be a bit confusing and there are a lot of options. This is why we don't offer online booking for this product, instead please give us a call at 1-800-266-8625, and we will explain everything and get you booked on just the right trip for you. If you can't call then email info@alaskatrain.com but for this trip a phone call really is best.
We recommend the Spencer Glacier or Grandview Valley day trip for those short on time. However, if you have at least two days we really encourage you to take the Coastal Classic all the way to Seward and spend the night. You see all the spectacular scenery of the Turnagain Arm, Spencer Glacier, Grandview Valley, and you also get to experience all that Seward has to offer like a glacier and wildlife day cruise to Kenai Fjords National Park. Taking the train all the way to Seward also works well for those travelers who are heading to Denali Park. You can take the Coastal Classic from Anchorage to Seward, spend a night or two, head north to Talkeetna or Denali by motorcoach, and finish up the rest of your trip on the Denali Star train. See this page for more details about how this approach saves you time, money and offers different scenery along the way.