Whittier to Anchorage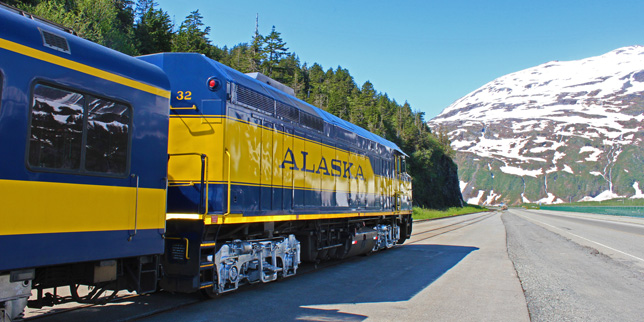 The first 12 miles of your trip will take you from Whittier to Portage, through two long tunnels and across a 14 mile wide isthmus that connects the Kenai Peninsula to mainland Alaska. These tunnels were constructed during World War II to supply the military in Alaska, along with a port, rail terminal and other infrastructure. As you travel across Portage valley, keep an eye out for salmon in the streams and moose or bear in the open grasslands. Much of this area was once covered by Portage Glacier, which has receded to form Portage Lake, visible on your left just before you enter the second tunnel.
In Portage, the train tracks join the mainline, which travels from Seward to Anchorage and beyond, to Denali Park and Fairbanks. After a brief stop, you will continue northwest towards Anchorage, and the Turnagain Arm will now be visible on your left. You will follow the Turnagain Arm on most of your journey to Anchorage. Watch for Beluga whales which, can sometimes by seen feeding on salmon that follow the incoming tide. Many travelers on this route also witness a unique natural phenomenon called a Bore Tide. Also known as a Tidal Bore, this natural wonder occurs when the leading edge of the incoming tide forms a wave of water as it travels up the arm. This wave can be 6 to 8 feet tall, traveling 10 to 15 miles per hours, and is most pronounced during extreme low tides surrounding new or full moons.
Another brief stop will be made in Girdwood, about 15 minutes after you leave the old Portage Station. Girdwood is home to Alyeska Ski Resort, a favorite summer and winter destination. The word "Alyeska" means Alaska in the native Athabaskan language, so don't be surprised if you see it a few times during your Alaska vacation. Like many historic towns in Alaska, Girdwood owes much of its roots to the discovery of gold in the area during the late 1800s.
You are now traveling alongside the Seward Highway, as well as a wonderful paved bike path that runs from Girdwood to Bird Creek and the small community of Indian. Bird Creek is also home to a campground and trail head for popular hiking trails. As you continue into Anchorage, keep an eye out for Dall sheep which like to gather on the rocky cliffs visible from the right side of the train. Just before you travel uphill into Anchorage, you pass an interesting Alaskan juxtaposition with the Potter Marsh bird sanctuary on your right, and the Rabbit Creek riffle range on your left.
Most of the remainder of your trip will cut through the town of Anchorage, rolling past a number of residential and commercial areas. You will cross over Dimond Boulevard, which is named for an early Alaskan politician, judge and champion for the Alaska statehood cause. You will rejoin the coast briefly as you pass West Chester Lagoon, and then round downtown Anchorage before pulling into the train depot. Downtown Anchorage is visible up the hill to your right, with the Port of Anchorage to your left. Anchorage is also home to the Alaska Railroad's corporate headquarters, visible to the left across the tracks from the historic train depot. From here, the mainline tracks continue north with the Denali Star service to Talkeetna, Denali Park and Fairbanks. From Whittier or Seward, an overnight is required in Anchorage before continuing north by train, although there are some same-day options by motorcoach.  You can read more about Anchorage here, and if you need help booking Anchorage hotels, tours or activities we can help with those as well.