Packing for Alaska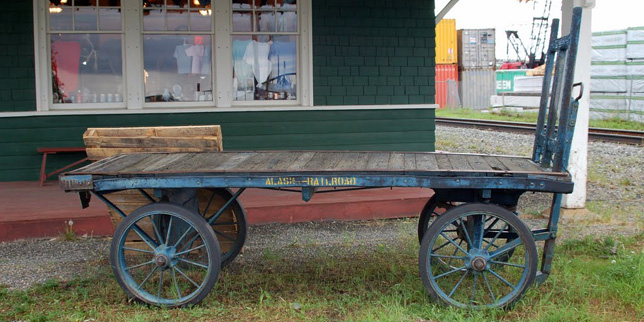 What to Pack for your Alaska Trip
This is an old Alaska Railroad luggage cart, by the way.
Packing for any vacation can be tricky. Packing for Alaska can be especially challenging because of the diverse climate and weather conditions. It is very important to be prepared for all types of conditions, ranging from rain to 80 degree weather.
The first key element for wardrobe packing is layers.  The early mornings and late evenings can cool down significantly in Alaska no matter the month or location. If you are planning on an early morning  or evening tour  you will want to dress with layers such as a short sleeve shirt, long sleeve thermal shirt or sweatshirt, topped off with a fleece jacket or rain jacket.  For the most part jeans and hiking pants (polyester/wool blends) are good for an Alaskan vacation. With jeans you just want to keep in mind that when cotton gets wet it is no longer warm. Along with layers it is important to bring a backpack. This item will be invaluable when it warms up and you need to remove some of those layers.
The second key item will be footwear.  Overall, Alaska is very casual and tennis shoes are acceptable everywhere. It is encouraged to have a comfortable pair of walking shoes or tennis shoes as your staple footwear.  Most trails around the lodges are very well maintained and this type of shoe is acceptable. If you are more adventurous and plan on more strenuous hiking, you may want to pack a good pair of hiking boots. Keep in mind, boots are not as easy to pack and take up more space in your suitcase.
The coastal areas of Alaska tend to be more wet than the interior. If you plan to travel to Whittier or Seward, it is important to have your layers and a rain jacket. Typically the temperature is 10 to 20 degrees cooler on the water, so if you are taking a day cruise be prepared.
Here is a list of important items to bring when packing:
Layered clothing (short sleeved shirts, long sleeved shirts, fleece, thermal/long underwear)
Socks (a pair of wool socks is a good investment)
Rain Jacket
Hat and Gloves (for those early morning/evening trips)
Walking Shoes or Tennis Shoes
Backpack
Binoculars (great for bus tours in Denali National Park)
Other key items that you will need to be sure and bring include a camera, any medications you will need, and your driver's license and/or passport. Alaska weather is unpredictable and sometimes challenging. It is always best to be over prepared than under prepared!
In case you are wondering... the Alaska Railroad baggage policy is fairly similar to the Airlines. One reasonably sized carry-on, and two checked bags up to 50 pounds. See our FAQ for more details.
Similar Questions and Topics
What should I pack for my Alaska trip?
What is the Alaska Railroad luggage policy?
What to bring to Alaska?
Related Questions and Topics
What are the best months to visit Alaska?
What will the weather be like in Alaska?