Weather in Alaska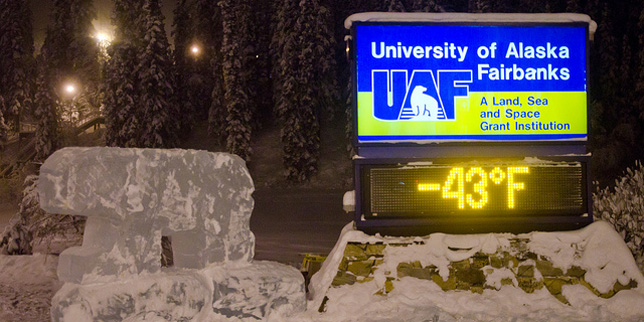 Alaska Weather for your Train Trip
One of the most common questions people ask regarding travel to Alaska is what to expect for weather. Like many places, it is hard to predict the Alaska weather. Alaska is a very large place, and the areas you will visit vary in terrain and elevation. Of course, these differences make for varying weather patterns as well.
The coastal communities of Alaska such as Anchorage, Seward and Whittier, typically receive more precipitation than the interior of Alaska.  You can expect cooler temperatures in these coastal communities with the highs averaging 55 F in May, 60 F in June, 65 F in July, 63 F in August and September at 55 F.  It is important to keep in mind that these temperatures are an average of past seasons, and can vary.  Although rain can come at any time on the coast, August is often considered one of our "rainier" months.
The interior of Alaska, which includes Denali National Park, Talkeetna and Fairbanks, are warmer during the summer months. This is because they are far from the coastal areas where the chilly waters keep the temperatures down.  On sunny days in June, July and early August you can see the temperatures rise into the 70s and possibly the 80s. Fairbanks in particular can get quite warm, with temperatures as high as 90 F on some days. When there is cloud cover in these areas, the temperature can drop several degrees to the upper 50s and 60s.  May temperatures can be in the high 50s to low 60s, while September can bring much cooler temperatures in the early morning and evening due to less sunlight. It is not uncommon to find temperatures in the high 30s during the early mornings and late evenings in the fall, especially in Denali National Park.
It is important to understand, that while the temperatures may be warm, you should also be prepared for cooler or wetter weather. Be sure to check the 10 day forecast before departing for Alaska. Also, check out our packing tips and make sure to bring layers of clothing including a water proof jacket.
Similar Questions and Topics
What will the weather be like in Alaska?
What is Alaska weather like in the summer?
Related Questions and Topics
What are the best months to visit Alaska?
What should I pack for my Alaska trip?