Train to Alaska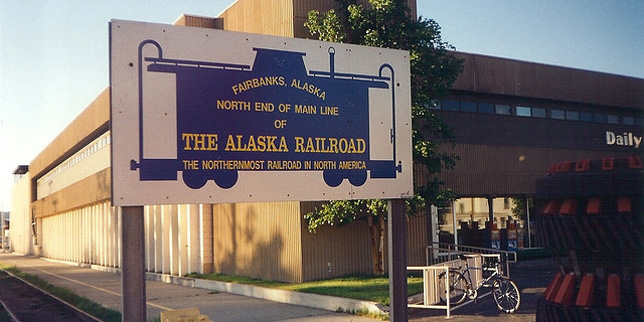 Can you take the train to Alaska?
No, unfortunately, you cannot. The Alaska Railroad operates in south central and interior Alaska, from Seward to Fairbanks. There is no connection to the rail system in Canada. You may hear about another railway in Alaska called the White Pass and Yukon Route. This service offers scenic tours out of Skagway to the Canadian Yukon. It is a popular shore excursion for cruise passenger visiting Skagway, but again, there is no connection to the Alaska Railroad.
There has been talk over the years about connecting Alaska to Canada or the "lower 48" by train, but little progress has been made. Sometimes people who ask about this are looking for alternatives for getting to Alaska other than flying. With that in mind, here are a few ways to get to Alaska without flying. 
Take a cruise ship. Princess Cruises offer seven day cruise between Whittier and Vancouver, British Columbia. Holland America Line, Norwegian Cruise Line, Celebrity Cruises and Royal Caribbean Cruises offer the same, but use Seward as their turnaround port. We can help if you want to book an Alaska Cruise or need more information on cruises.
Take the ferry. Visit the Alaska Marine Highway web site for more information.  You can take a passenger ferry from Bellingham Washington to Whittier Alaska, for example.
Drive. It is about 2300 miles from Seattle to Anchorage and for the most part the roads are in pretty good shape.
Similar Questions and Topics
Can I take the train to Alaska?
Can I take the train from Seattle to Alaska?
Can I take the railroad from Washington to Alaska?
Is there a train from Vancouver to Alaska?
Can I take the railroad from Canada to Alaska?
Related Questions and Topics
What cities are served by the Alaska Railroad?
Where can I learn more about the Alaska Railroad?